Plummy goodness...
I succumbed to the need to cast on for something new. I don't usually like Bliss patterns, b/c her sizes are typically too small and I don't belive in rewriting a pattern in a book I've paid $18 for. I needed to use up some green Cashermino Superchunky, and when I found this I had to do it. For once, it looks like she's written a pattern that will fit a well nourished American. The pattern is from Debbie Bliss Book 7 and it's called Plum.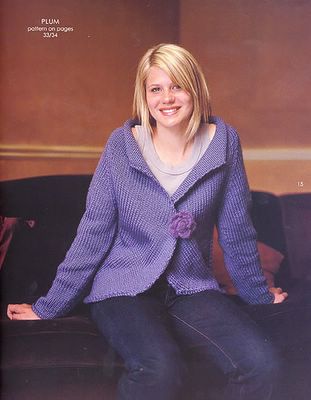 Plum - Debbie Bliss Book 7

I have to say that I am in love with this pattern. It is just flying off the needles. I started last Sunday and am almost done with both fronts - didn't knit for almost 3 of those days. By this sunday I hope to be done with the sleeves. I can't believe how easy a knit this is. The body is knit flat in one piece to the arms and then divided for the fronts. Raglan sleeves are knit separately and are incorporated in the neckline. At the start, you cast on and then work short rows and increases to get the stitches on the fronts to sit at an angle to the stitches on the back. Pretty nifty! Practice short rows if you haven't done them before; you don't want holes in the knitting. Stitch markers are a necessity for this pattern. I ripped 3 times due to miscounting before I figured that out. You need to place the markers on either side of the 60/66 stitches for the back and use two more to keep track of where you started the row. Those two will move each time you get to them. The thing I would change is to not work the decreases at the neck edges, but a couple of stitches in. The pattern calls for them at the edges and I have decided I don't like that. Generally, I think that looks a little sloppy but I decided to trust the pattern - big mistake. I would prefer to have that detail show. I am not going to rip back b/c the cashmerino doesn't like to frog; it's already looking a bit fuzzy where I had to frog it at the start. The only downside is the odd sized needles it needs, 7.5 mm (which DB calls US 11 1/2. huh???. It's really 10 and 7/8. I happened to have some from another project where I couldn't get guage at US 10.5 or 11 to save my life. Pity the poor soul who doesn't have these in circs. JKLNeedles has them. I'm partial to the "the collection" over the pony pearls. ) I will probably do another one of these in a different yarn or mix of yarns.